November 14, 2005
Dear Friends:
I am grateful for the community of faith, in the USA and here in Mexico, that sustains the ministry of the "Give Ye Them To Eat" program as well as myself as a UMC missionary. It is inspiring to see the hand of God working through this mission program and in the lives of the GYTTE staff as they serve.
The staff and I have been very involved in ministry. September and October where busy months with the autumn Regional meetings for the health workers, a terrific work-study team from the Central Pennsylvania Conference, numerous workshops and tours at the "Tree of Life" Training Center, and the continued construction on the multipurpose structure and the leveling of land for the future sports court at the Center.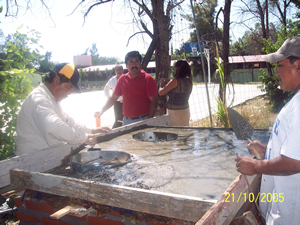 At the end of October, the staff at the Training Center taught a course on the construction and use of the Dry Composting Toilet for a group of eleven educators and students from a rural vocational school. During the course the group not only built two toilet facilities for their school (one each for gals and guys), they learned how to teach families to build their own and how to maintain it, as well as how to safely take advantage of the resources this technology provides. This is another way in which your mission monies are used to bring dignity into the lives of the Mexican people.
For several months the Puebla office staff has been working on the production of the 2005Advent materials. They are now distributing them to local churches. It is a special privilege to prepare these materials that will help guide congregations, Sunday schools and church families in their preparation to receive God's gift of the Christ Child this Christmas.
I want to thank you for your mission involvement that changes lives and gives testimony to God's love and concern for his children and creation.
In Christ's love,
Terry Henderson