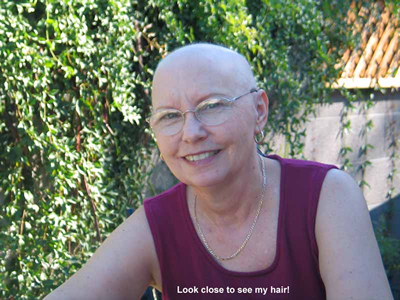 November 16, 2005
Dear Friends:
How special it is to be part of a community of faith that believes in the Lord, Jesus Christ, and God's calling to holy living and service. We have heard from many of you and have learned how God is working in your lives. Thank you for sharing.
God's hand has been visible in our lives also. Although the last two months have been difficult I finished up the last of my chemotherapy with its painful side effects, hospitalizations, blood transfusions, special diet, etc. With that phase of treatment completed, I started the seven weeks of radiation in late October. God has surrounded us with love and strength, as well as the care of family, friends and strangers. I am very grateful.
In the last six weeks I have had two minor surgical procedures. One was to remove a lump that turned out to be a fat necrosis. Had I known they were going to remove fat I would have suggested surgery on my hips. I have also been advised that there are now a few hairs appearing on my head. At 1/8th inch in length, I don't know if they will be blond or gray but either way, any hair is a welcome improvement.
Thank you for your calls, cards and letters, gifts and prayers. I feel really blessed to have such wonderful friends and family surround me with their love. I do so appreciate your concern. Obviously God knew we would need family as well as a family of faith to help us through life.
Praise God.
In Christian love,
Muriel A. Henderson