The LIVESTOCK DEVELOPMENT PROGRAM provides concerned people and churches with an opportunity to become involved in a development ministry to combat hunger and poverty through the distribution of food and income producing animals.
The LIVESTOCK DEVELOPMENT PROGRAM works with groupings of 5 to 10 families. Livestock, education and local resources are used as development tools. The livestock distributed depends upon the people's needs and the available resources. The options include milk goat and hair sheep. The vital ingredient to insure successful livestock production is a training program with hands-on learning experiences. The local resources are the rural people and their own initiative as well as the natural resources available in their area! When it is determined which animal is the most appropriate for the local situation the participating families each receives one female animal. The group is provided with a quality male animal for breeding purposes at a subsidized cost. Once their animal is in production, the high quality offspring will provide animal protein, animal products and/or income.

The LIVESTOCK DEVELOPMENT PROGRAM requires a commitment by all parties. Donors provide the financial gift to start a livestock project. GYTTE staff members are involved in training, livestock distribution and project supervision as well as communicating with the donors. The village partners contract to feed and provide for their animals using the skills and practices they have learned. Together they cover the subsidized cost of the buck, boar or ram. They also pledge to share part of the offspring as well as their newly gained knowledge and experience with other families in need of such an opportunity.

The LIVESTOCK DEVELOPMENT PROGRAM impacts people and communities, multiplying the donation like the miracle of the multiplication of bread and fish in the "Feeding of the 5000." The initial gift of livestock and training helps the first group of families to feed themselves as well as provide them with resources for future production. Then they go on to assist their neighbors by providing them with the same gifts which enabled them to improve their lives. The GYTTE program, the donors and the village partners, all work together to create an ever expanding circle of love and life that spreads out to touch others.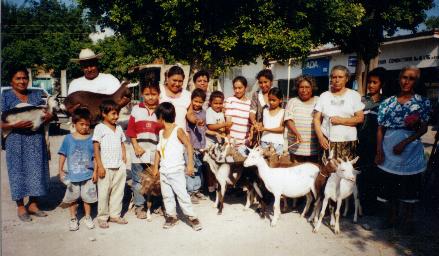 Sponsor an animal for a family:





GOAT: $125.00
BUCK: $250.00









SHEEP: $160.00
RAM: $250.00