Terry & Muriel Henderson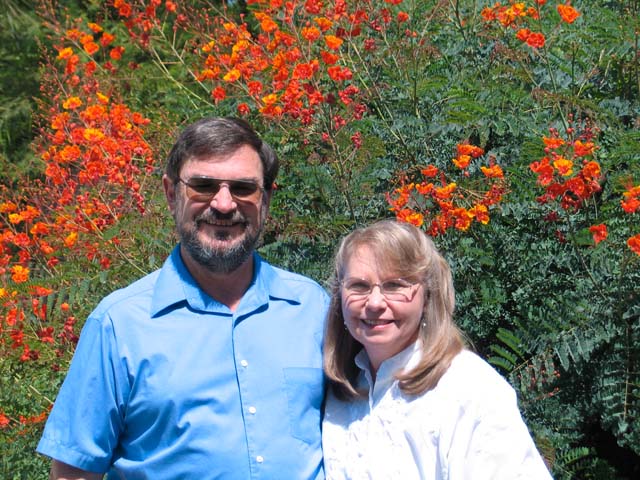 June 3, 2005
39th Wedding Anniversary Photo

June 3, 2005
Dear Family and Friends:
With the Lord's help and your prayers we have made it through yet another surgery and we are doing okay. Muriel had corrective surgery on Thursday, June 2nd to repair the areas where the skin had died after the bilateral mastectomy. Dr. Travis Holcombe, Muriel's plastic surgeon, reports that the surgery went well and feels confident that we are on the road to recovery. We appreciate your prayers for complete healing of the chest area.
Next week we will move through various doctor's appointments, tests and procedures, one of which is the port-a-cath. This port is a small device surgically placed under the skin. It empties into a blood vessel and makes it easier to give chemotherapy and to take blood for tests. Chemotherapy is still somewhere in the future, as we have to wait until enough healing has taken place in the above-mentioned locations.
It is hard to believe that it is now June when this health situation started back in January this year. And yet June has always been a special month for us. We were married on June 3, 1966, so today is our 39th wedding anniversary! A happy day at any time and especially now that we have had to make some very hard choices as we purposely chose life over any personal sacrifices breast cancer has brought into our lives!
Back in June 1967 we arrived in the country of Chile to serve as mission volunteers, spending our first wedding anniversary on the mission field. After serving in Chile for close to three years, we came back to the USA for more schooling.
After college graduation, the General Board of Global Ministries of the United Methodist Church hired us in June 1972. After missionary training we were commissioned and sent to, our now beloved, Mexico where we have had the privilege of serving for the past 33 years. The last 28 of those 33 years have been invested in the creation and direction of the "Give Ye Them To Eat" program for integrated development for the rural sector of south-central Mexico. And the program has a wonderful team of dedicated Christians serving on the GYTTE staff who combine social action and evangelism in the Wesleyan tradition.
We are grateful to God for the guidance, grace and love we have experienced throughout our lives and ministry. We are thankful for dear family and friends who have traveled this road with us across the years. And we are so appreciative of the many generous supporters of the GYTTE program who make this outreach ministry possible. Thank you! Muchas Gracias!
In His Grasp,
Muriel and Terry Henderson
UMC Missionaries in Mexico
Give Ye Them To Eat
Code No. 07629A