February 2006
Dear Family and Friends:
We are writing to you from the Tree of Life Training Center in Tlancualpican , Mexico . Muriel has returned to Mexico to work alongside Terry in the ministry of the "Give Ye Them To Eat" program. This is an exciting time after dealing with breast cancer for twelve months with Muriel living in Arizona for ten of those months while under treatment for the disease. In mid-January 2006 she was given medical clearance and returned to her mission assignment with her first workday being February 1, 2006.
In 2005 we did not know if the diagnosis for breast cancer with its subsequent surgeries, chemotherapy and radiation would allow us to return to our beloved Mexico or if these medical procedures were just a temporary fix on a trip to heaven. The truth is that 2005, like the rest of our life, was a process of moving toward eternity. The beauty of it is traveling with the Lord on one's life journey
We have read and quoted Jeremiah 29:11 many times, "For surely I know the plans I have for you, says the Lord, plans for your welfare and not for harm, to give you a future with hope." We trust that God knows best what we need to experience for our spiritual growth and faith. After all, our life here is temporary as we prepare for eternity.
The year 2005 will always be very special to us as a time like no other. We were surrounded with God's love, grace and care as expressed through the actions, words, messages, cards, gifts and prayers of God's faithful servants, our brothers and sisters in Christ, in Mexico and the United State. How fortunate and blessed we are. Thank you for your kindnesses.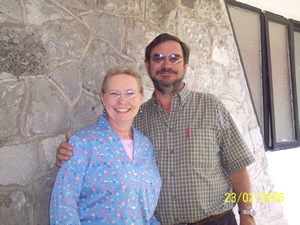 In closing we paraphrase Philemon, verses 4 – 7: …As we pray for you, we thank God for your lives and witness. We know of the love and faith you have for Jesus, which brims over to other Christians. Our prayer is that this faith we hold in common will be evident in all the good things we do, and that people recognize Christ in all of it. Friends, you have no idea how good your love has made us feel…
Your servants and His,
Muriel and Terry Henderson