MEXICO MISSION MESSAGE
Terry & Muriel Henderson, Apartado 2-72, Puebla, Puebla 72130, México
"More Than A Bandage", GYTTE's Community and Family Health Program: Each spring and fall GYTTE hosts four regional meetings for continuing education for the GYTTE trained community-based primary health workers. The topic for the spring meetings was Birth and Postpartum care and the classes went well in all four regions.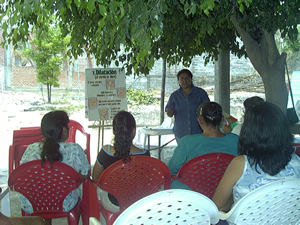 The fourth meeting was held in a region that is difficult to reach due to the mountains and rugged dirt roads. For the health workers to travel to a more populated area to attend the meeting involves long walks out of their villages to catch bus transportation. Consequently, in this region, we host the semi-annual meetings in conjunction with Medical Teams that come to serve at the Methodist Clinic in the mountain village of Tatoxcac, which is located relatively close to the communities of these health workers.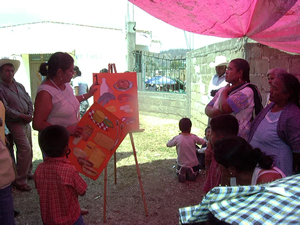 Most of the health workers in this area travel to the Clinic when a medical team is there and they also encourage others from their villages to go for checkups, dental work and other health issues. Veronica Palacios, the GYTTE staff nurse and health program director, and six health workers participated with the Tennessee Medical Team this past spring. Over the four-day experience, they taught to the hundreds of patients as they waited in lines to see the doctors and dentists.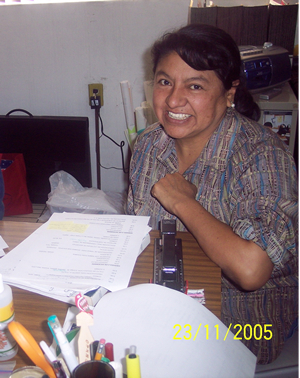 During one of those days, Veronica hosted a regional meeting as most of the health workers from the area were present. There was an interesting development. Being the health workers teaching the patients had already taken their class in their own region, they wanted to teach the class on Birthing. Veronica reported that they obviously had learned the subject material well enough to teach it and they were very dynamic and enthusiastic in their teaching. It is always exciting to see those who have come to train with GYTTE, go out to teach and train their families, friends and neighbors, and do it effectively. This is what GYTTE is all about. Thank you for helping us to make these pportunities available to the women of rural Mexico, who in turn, go on to teach others.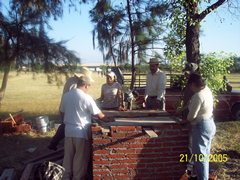 Pueblo Partners, GYTTE's Community, Agriculture and Livestock Development Program: At the end of October, the GYTTE staff taught a course on the construction and use of the Dry Composting Toilet for a group of eleven educators and students from a rural vocational school. During the course the group not only built two toilet facilities for their school (one each for gals and guys), but they learned how to teach families to build their own and how to maintain it, as well as how to safely take advantage of the resources this technology provides. A number of these courses have been taught this year, because so many people are interested in this technology. This is another way in which your mission monies are used to bring dignity into the lives of the Mexican people.
E-mail Epistles: This year we have been sending out a monthly E-mail Update on the ministry of the GYTTE program. It includes color photographs as well. If you are not on our e-mail address list but would like to receive these monthly updates, send us your name and electronic mail address. You can also read past updates on the GYTTE website by clicking on the link: Monthly Update at www.gytte.org
Henderson Health Update: As many of you know cancer came into our lives in 2005 and it has been a whirlwind experience since January. Muriel was diagnosed with breast cancer and had several surgeries this past spring. Since June she has gone through months of chemotherapy and is now receiving radiation treatments. Although it has been difficult, God has been faithful. We know that the big C, Christ, is greater than the little c, cancer! We are grateful for all the prayer support that has surrounded us during this time. Muriel has been convalescing at the home of her sister, Robin Gavin. If you wish to see Muriel's new look, you can go to the link: Muriel's Health Update on the GYTTE website www.gytte.org.
Travel Tales: Terry has been traveling back and forth between Mexico and Arizona while Muriel has been under treatment. Terry is doing well even with all the adjustments and changes. Some weeks he is driving on rugged dirt roads and eating tacos and tamales at the Training Center. At another time he is on a Phoenix freeway and enjoying a roast and mashed potatoes with gravy at the Gavin - Lloyd residence. Being our sister-in-law, Pam Henderson, works for America West Airlines, Terry has been using buddy passes to fly standby. Now with the holiday season upon us a full-fare ticket will be necessary.
GYTTE Staff Successes: With health issues and absences, we are unable to be involved in all the day-to-day work of the GYTTE program but the staff has carried on admirably. They have continued with the planning and hosting of workshops, classes, courses, regional meetings, educational tours of the Training Center, etc. The Administrative duties of the program are being efficiently addressed also. Educational materials for the various program areas continue to be produced for the above-mentioned activities. This summer's Vacation Bible School material was produced, distributed and used effectively by the local churches. Pastors and laity reported good results. The Advent materials were completed and distributed at the fall District Conferences of the Methodist Church of Mexico. The GYTTE staff is doing an outstanding job as they continue in ministry and we are so proud to be their colleagues. To learn more about the GYTTE ministry, mission stories and see color photos go to the GYTTE website: www.gytte.org
Milestones:
" Dr. Alejandro Ruiz --: This past summer former Bishop, Dr. Alejandro Ruiz, passed away. We thank God for his life of faithful service as a minister and Bishop of the Methodist Church of Mexico. His leadership was that of a statesman who worked for reconciliation and unity. Bishop Ruiz was also the person who conceived the idea of an outreach program to address the needs of farming families. In 1977 he named that program "Give Ye Them To Eat" and invited us to develop and direct the GYTTE program. We are grateful for the opportunity of service which Bishop Ruiz gave us as missionaries in the rural sector of Mexico.
" 75th Anniversary of the Methodist Church of Mexico -- Although the birth of Methodism in Mexico was in 1873, the Methodist Church did not become an autonomous church until 1930. This past September the 75th anniversary celebration was held in Mexico City with clergy, laity, and visitors as well as present and former bishops in attendance. It was a special time to remember the church's contribution to the country as well as a challenge for continued ministry.

---
"GIVE YE THEM TO EAT" is an Advance Special Project of the United Methodist Church. Financial gifts can be sent to the Office of the Advance of the General Board of Global Ministries. Make checks payable to "Advance GCFA."
Designate your gift: Give Ye Them To Eat - No. 07629A
Send Donations to: GBGM Advance, Room 1400, 475 Riverside Drive, New York, NY 10115