ESTELA'S STORY: Through the eyes of
Terry and Muriel Henderson
As UMC missionaries we find that our lives are filled with adventure. The idea of adventure reminds us of our friend, Estela Jimenez. When we first met her, she was a shy young woman in her early twenties, living with her parents in Achichica, Mexico; working along side her father in the fields. Although timid in public we eventually discovered Estela had a ready smile and a quick wit.
Estela came to GYTTE's "Tree of Life" Training Center to participate in courses in Community and Family Health and workshops on Community Development. When she came to her first course, her head was down, her shoulders bent over and she did not make eye contact; she wished she had stayed home. But it was at the Center that Estela "Adventure" began.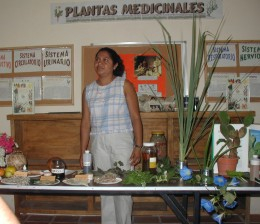 The courses and workshops are designed to prepare individuals to confront community problems and implement solutions for the needs their family and community face regarding health, community and agricultural issues. The thread that binds all of this together is the daily devotion time where we learn about God's love and grace in our lives and the importance of our dependence upon God and our response in faith to a commitment to serve God by serving others.

Estela learned that she was unique with talents and gifts that God had given her for God's purpose. She soon discovered that God was giving her opportunities to share these gifts. As Estela gained knowledge and skills she experienced the joy of sharing what she had learned with others; starting first with her family and then friends. Later she began sharing with those in her community, teaching health information and the use of medicinal plants as well as sanitation options and construction techniques. It wasn't long before she was invited to share in nearby villages and eventually in many communities and clinics in the state of Puebla. Now, as a staff member of the GYTTE program, she is involved in an outreach ministry to those who come to learn about development issues and gain new skills. She is an energetic and caring instructor.
Estela is the first to admit that God has led her on quite an adventure through the learning process and on to serve in strange and different places where people speak in dialects and with accents foreign to her. But most of all, God has been there throughout this great adventure, loving, encouraging, and shaping as God has opened more doors for learning and service. Estela says, "the hand of God has been evident in my life throughout this adventure in preparation and service; there is evidence of God's love each and every day."

Being involved in missions is always an adventure! As Christians you and we can share God's message of love with others and thus give them the opportunity to start their adventure. As you live your own adventure in faith, may God grace your life with joy.
---
MISSION STORIES ARE A REFLECTION OF CHANGED LIVES!

The objective of the "Give Ye Them To Eat" program and staff is to offer development opportunities to marginalized people, families and communities so that lives can be changed and transformed. Each year thousands are reached by the GYTTE staff and those who GYTTE prepares for service. Transformed lives are the result! God empowers people as they come to know God's Word and God's love for them through this outreach ministry to the rural sector of south-central Mexico.
Your mission involvement makes possible stories like that of Estela's. Her life and decision to serve and share has touched hundreds of lives. As she was empowered to serve so are others who learn from her. Mission donations, in support of the GYTTE program, empower people for service to God and neighbor. We invite you to consider the ministry of "Give Ye Them To Eat" in your giving.