Mexico - December 2007:

Christmas is a heart condition that gives meaning to everyday throughout the year! Feliz Navidad!

Terry & Muriel Henderson
Advent, with its time of preparation to receive the Christ, is just past and the season of Christmas is upon us when we rejoice in God's gift of His son come to earth to redeem us. Epiphany is still a few days away, when we'll celebrate God among us and the heartfelt knowledge that we need never be alone or without direction in our lives. In Mexico the celebration of the Christmas season continues, culminating on January 6 th with Epiphany that commemorates the gifts brought to the Christ Child. Here, this day is called Kings Day and children receive toys and gifts from the Kings. Of course, the greatest gift, Christ Jesus, gives meaning to life in an imperfect world. Praise God for this perfect gift freely given to all.
Another gift we received in 2007 was your generous support of the outreach ministry of the "Give Ye Them To Eat" program in Mexico . Muchas gracias! Thank you for your mission involvement and support of us as missionaries and the GYTTE program that addresses the needs of marginalized and resource-poor families in the rural sector by offering people training and other tools for development.
| | | |
| --- | --- | --- |
| 2008 is almost here and we urgently need your help as we prepare for many training events in the New Year. This outreach ministry depends on you and the generosity of United Methodist congregations in the USA . Please help GYTTE's Mexican staff and us to reach out to more families and communities eager to train for transformation and a meaningful life in the company of their family and within their own community and culture. The Mexican people desperately need development opportunities within their own country. This is true immigration reform. Financial gifts designated for "Give Ye Them To Eat" and sent through Advance Special channels with the GBGM of the Unite Methodist Church provide opportunities that transform lives, families and whole communities. | | |
| | | |
In the past 30 years (1977 – 2007) the GYTTE program has trained, educated and equipped tens of thousands of people to take care of their own needs as well as serve others. Each year the GYTTE staff and those whom we train reach out to thousands more. Thank you for being part of this ripple effect as one life touches another. It is in that moment when two lives connect that people can experience God and God's grace and love in their lives.
In 2007, approximately 15,000 people were empowered to move from subsistence living to a life of dignity through training events, learning experiences, and community group activities, etc., as the GYTTE staff and those whom we trained assisted people in meeting their basic needs by creating conditions in which change could take place from within their communities.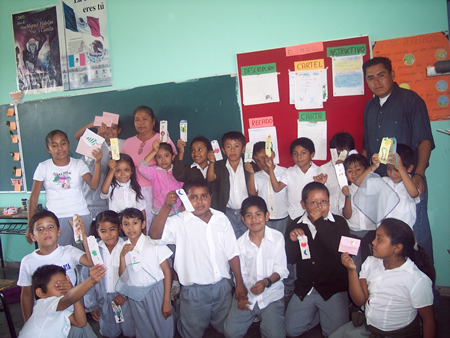 2007 Overview
Here are some of the highlights of the past twelve months your donations made possible.
23 Women in Northern Mexico were trained as community-based, primary health workers through GYTTE's "More Than A Bandage" program. Even though only half completed all three courses and graduated December 1, 2007, all of them are volunteering their services in their own communities.

The 141 previously trained health workers taught a variety of subjects related to health issues and preventive health measures to more that 9,000 people in their own communities as well as to patients who were waiting for medical appointments during the various medical teams.

Several hundred villagers and vocational school students toured the "Tree of Life" Training Center to learn about the alternative technologies and training opportunities the GYTTE program offers.

Ten scholarship students, sponsored by GYTTE, continued their studies with one graduating this past summer with a degree in Education. Salatiel Rodriguez is now serving a year with the GYTTE program.

Six teacher-training workshops in Christian Education were offered on the local, district and conference levels. Sunday school teachers, youth leaders and counselors and pastors attended in order to learn how to better nurture their congregations and reach out to the unchurched.

Work-Study teams and volunteers completed the stone bleachers and lighting for the Samuel Hartman Memorial Sports Court at GYTTE's "Tree of Life" Training Center in addition to many other important projects. The team members also worked in the community with families needing home repairs and additions.

Former GYTTE seminary scholarship students have been very active in ministry as well. Rev. Raquel Balbuena was invited to participate in a radio ministry in the city of Veracruz where she serves and Rev. Maria Calixto graduated as a GYTTE-trained health worker to better serve her congregation and community in Agua Prieta , Sonora , Mexico.
A Story from the Mission Field in Mexico
We would like you to meet some very special friends, Eleuterio and Celia Jimenez, an elderly couple living in the village of Alchichica , Puebla . They are always open to receiving friends and strangers for a visit under the trees in their outdoor patio. It is common for them to share their faith through music and they enjoy singing their many favorite hymns in two-part harmony. They know all the verses by heart as they have song them since their youth. Eleuterio and Celia raised twelve children on their small parcel of land, feeding their family from the agricultural products they grew, which was mostly corn and beans as well as the fruit from their twelve mango trees. One for each of their children. Although now grown, one daughter remains at home while the other children have moved away. A few send a small amount of money every couple of months to help with their parents' support. As in most underdeveloped and developing nations, once parents are too old or too sickly for gainful employment, they live on what their children can afford to give them. This couple lives in just one room and when the temperature is too hot to sleep inside they spend the nights on a woven straw mat outside.
| | | |
| --- | --- | --- |
| With age come health issues like arthritis, cataracts, digestive and respiratory problems, etc. The Jimenez are dealing with all these and diabetes. Another problem is that it's difficult for them to walk out to the pit latrine far beyond their room and especially at night. That is where the GYTTE program got involved. With help from some GYTTE staff and work team members, as well as their daughter, a room with a dry composting toilet system and an adjoining shower stall was built onto their one room making everyday living easier. Just yesterday we were visiting them and Eleuterio was painting the outside of the bathroom addition. He and Celia seem pleased with the convenience and safety this has brought into their lives. Many of the technologies taught by the GYTTE staff improve daily life while taking the environment into consideration. The Jimenez family is reaping the benefits of a low-cost construction with a low-tech and environmentally sensitive sanitation unit. This is one way in which your mission gifts touch the lives of people in Mexico as well as making a positive impart on the earth. On behalf of the Jimenez family and the GYTTE staff we want to thank you for your mission involvement that touches and changes lives. | | |
Henderson Family Update
Terry's brother, Jim Henderson, was welcomed into heaven on November 17 th after a tragic traffic accident. Even though our hearts are saddened, we know that his homecoming was a joyous event. Our sister-in-law, Pam, is home after almost three weeks in the hospital and most of that time in ICU. The family has rallied around her and she is on her way to recovery. God has surrounded us all with love, grace and the comfort of family and friends. We welcome your prayers for Pam, her children and grandchildren, Terry's mother, and our extended family.
Mission Giving
"GIVE YE THEM TO EAT" is an Advance Special Project of the United Methodist Church . Financial gifts can be sent to the Advance Office of the General Board of Global Ministries. There are two options available to process your gift.
GIVE THROUGH YOUR CHURCH: Make your check payable to your local UMC and write the Project Name & Code Number in the lower left corner of your check. Drop your gift in the offering plate or give the check to your church treasurer to send to the conference, so that your church will receive Advance credit. Gifts are then forwarded to Advance GCFA (General Council on Finance and Administration), at the address below.
GIVE BY MAIL: Make your check payable to Advance GCFA and write the Project Name & Code Number in the lower left corner of your check. Send to the address below.
| | |
| --- | --- |
| PROJECT NAME & CODE NUMBER: | "GIVE YE THEM TO EAT" - No. 07629A |
| | |
| SEND GIFTS TO THIS ADDRESS: | Advance GCFA - GBGM |
| | P.O. Box 9068 , GPO |
| | New York , NY 10087-9068 |
100% of your donation will reach the "Give Ye Them To Eat" Ministry in Mexico.