Cristina Perez decided to participate in a great adventure in the company of 11 other villagers from Mataplanta, Veracruz . They traveled more than five hours to the GYTTE Tree of Life Training Center in Tlancualpican, Puebla , to take part in a workshop on the Dry Composting Toilet System. This was the first time Cristina had traveled out of her village, and she had great hopes that learning about this technology would improve the quality of life for her family by providing an appropriate and cost-effective solution to their sanitation needs.
During the workshop, Perez explained that in her community some of the families have pit latrines like hers, whereas others have no sanitation facilities whatsoever. Although it embarrassed her to say so, she noted that when their latrine was full, the only thing they could do was to empty out the pit in order to use it again. Disposing of the sewage was yet another problem.
Recently, the government offered to help Perez's community by putting in sewage lines so families could build flush toilets, but villagers found this approach problematic. The cost per household to connect to the sewage line was more than many families could afford. The lack of water available to homes made a flush toilet an unlikely solution, and the government's plan to pipe sewage to the river would contaminate the water source villagers used for bathing, clothes washing, and fishing.
Cristina said the workshop was a blessing for her and the entire group because it offered an economical alternative that enabled them to solve their sanitation problem without contaminating their world. The group expressed joy over the concern the GYTTE program has for people and their needs. After the workshop, Cristina and her family built a dry composting toilet system in their small home. This has brought about a big change in their lives.
Catalino Sanchez is the coordinator of Give Ye Them To Eat's Pueblo Partners Program.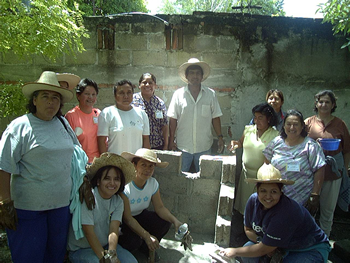 Participants in the Dry Composting Toilet System workshops will be able to construct eco-friendly, sustainable toilet systems for their homes after they complete their training. GYTTE staff member, Liborio Marin, center, shows the women how to mix cement by hand and lay block. They now have hands-on experience with the building materials.