Irma Carreon is a 34-year-old wife and mother living in Colonia, a dusty community on the outskirts of the border town of Agua Prieta, Sonora, a place created by informal settlers. She and her husband, Jose Ramon Amaya, have four daughters and two sons.
Mrs. Carreon says that she is grateful to God for the invitation she received to train with GYTTE's Community and Family Health Program called "More Than a Bandage." Irma said she decided to attend the training courses to become a community-based, primary health care worker because there is so much need in her community, where few social services are available.
Besides being a conscientious worker, Irma has a quick wit and infectious laugh. She is also the designated leader of her community group called "Opportunities," which is organized through a government program. Through this program, she worked for two years with a lunch project for the elementary school that some of her children attend. Although Mexican schools do not generally serve meals, when the government discovers a school in an area where children are at risk for malnutrition, it organizes and funds a community group to serve one meal, Monday through Friday, to ensure that the children eat at least once a day.
Irma found the subjects in the GTTYE-sponsored basic health course helpful. She immediately put into practice the information she gained on nutrition and disinfecting fruits and vegetables, at the school lunch program as well as in her home. She was also glad to learn the importance of each family member's having his or her own personal toiletry itemsócomb, toothbrush, nail clippersóto avoid the spread of disease
and infection.
Because of Mrs. Correon's volunteer position with Opportun- ities and her newly gained knowledge of health issues, many doors have opened to her. She has been invited to teach preventive health measures in local public schools and at community events. Within a period of just five months after completing the basic health course, she had taught nearly 400 people about dental hygiene, personal hygiene, disinfecting fruits and vegetables, sanitary dish washing, dehydration, oral rehydration therapy, and self-esteem.
Mrs. Carreon completed the advanced health course in December 2007 and is delighted with all the new things she learned. She is motivated to share this new information because she believes that students and families need it. Sexuality, prevention of sexually transmitted diseases, family planning, and early detection of breast cancer and other cancers are just some of the subjects she plans to teach at upcoming community gatherings and schools.
Veronica Palacios is a nurse and director of GYTTE project's "More Than A Bandage" program.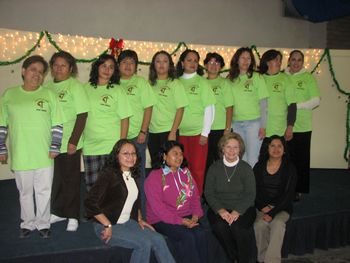 Bottom row, left to right: Yanet Lira, Veronica Palacios, Muriel Henderson, and Estela Jimenez, train Mexican women to become community-based, primary health care workers. Standing are 10 graduates of the training program. Irma is third from the left.